Three key contenders for the Reserve Bank's top job
Save articles for later
Add articles to your saved list and come back to them any time.
Speculation has been building about who might take the top spot at the Reserve Bank of Australia, with Treasurer Jim Chalmers widely expected to announce the latest appointment for governor as soon as this week.
Philip Lowe, who has held the post since 2016, is not expected to remain in the top job.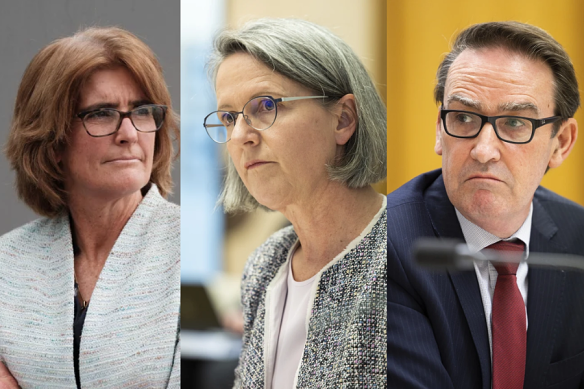 RBA deputy governor Michele Bullock, Finance Department secretary Jenny Wilkinson and Treasury secretary Stephen Kennedy are among the candidates for the RBA's top job.Credit: Alex Ellinghausen, Oscar Colman
Lowe's term expires in September, and the treasurer has emphasised the decision would not be made off the back of disapproval of the bank by the public and Labor backbenchers, or criticism of Lowe's handling of monetary policy before the pandemic.
"It's a big call, it's a big job," Chalmers said about the decision recently.
Ahead of the official announcement, here are three of the most likely contenders to replace Lowe – and therefore to hold the key to your future mortgage rates.
Stephen Kennedy
Seen as one of the top candidates for the job, Stephen Kennedy has been Treasury secretary since September 2019 and sits on the Reserve Bank's board. Prior to Treasury, he held senior roles in several government departments, including deputy secretary at the Department of Prime Minister and Cabinet.
Kennedy is considered an "outsider" because he has not worked within the bank.
The last time a bank outsider was made governor was in 1989 when then-Treasury secretary Bernie Fraser was appointed.
Australia Institute executive director Richard Denniss said he hoped the appointed governor would be an outsider who would be able to creatively tackle inflation.
"Wilkinson or Kennedy, as people coming from outside the RBA, have the potential to help it adapt to new challenges that it's been struggling with," Denniss said.
Jenny Wilkinson
Wilkinson, who was made Finance Department secretary last year, is also in the running. She has held senior positions across several departments and agencies, including the Treasury and the Parliamentary Budget Office. She began her career at the RBA.
AMP chief economist Shane Oliver said Wilkinson was widely seen as the strongest candidate because of her broad range of experience and because she appeared to be in the treasurer's good books.
"She may appear in some commentators' views as a favourite because the treasurer has spoken favourably of his dealing with her when they were in opposition," Oliver said.
Michele Bullock
The Reserve Bank's first female deputy governor, Bullock has held the role since her appointment last year and has been at the bank since 1985. As deputy governor, she is second-in-command after Lowe and is considered a strong contender for the top job.
It's a well-trodden path, with Lowe and his two predecessors – Glenn Stevens and Ian Macfarlane – all serving as deputy before being promoted to governor.
GSFM advisor Stephen Miller said Bullock would be an outstanding candidate because of her balanced abilities.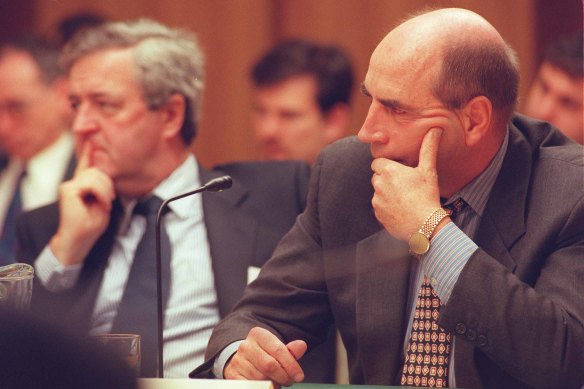 Then-RBA governor Bernie Fraser (right), with Ian Macfarlane, the man who would replace him in 1996.Credit: Andrew Meares
"She's a very fine applied economist who has achieved a lot in the academic world, and she communicates quite well as well, whereas I think Lowe has had his difficulties," Miller said.
Outside chances
While it's unlikely that Lowe will be re-appointed, Oliver said there was an argument for his term to be extended, and that any new governor would face the same challenge as the current governor.
"From an economic point of view, Lowe should have his term extended because we're halfway through a battle to curb inflation," Oliver said.
"But the common speculation is that Lowe will be replaced. The main challenge will be for the governor to make sure that inflation continues to fall, but also to avoid a recession."
Former RBA deputy governor Guy Debelle and Australian Bureau of Statistics head David Gruen have also been mentioned as potential candidates for the job.
With Shane Wright
The Money with Jess newsletter helps you budget, earn, invest and enjoy your money. Sign up to get it every Sunday.
Most Viewed in Business
From our partners
Source: Read Full Article