Too slow to act: Sportsbet fined $13,000 for failing to protect customer
Save articles for later
Add articles to your saved list and come back to them any time.
Australia's largest corporate bookmaker, Sportsbet, has been fined more than $13,000 over its failure to intervene when a new customer went on a 24-hour betting spree in 2019.
The Northern Territory Racing Commission issued a decision notice on Friday which found Sportsbet had allowed one of its customers to deposit more than $15,000 over a 24-hour period less than a week after the customer opened their betting account in October 2019.
The commission found Sportsbet failed to intervene until the customer reached the group's "red flag" threshold of depositing more than $20,000 in a single month, a milestone he reached the week he opened the account.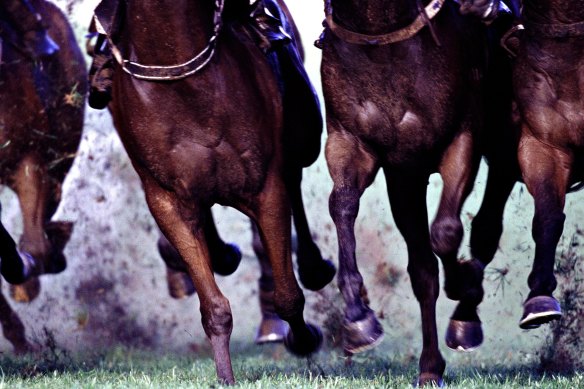 The Northern Territory Racing Commission admitted in February its fines for corporate bookmakers pale in comparison with the $50 billion industry it tries to regulate.Credit: Phil Carrick
The customer lodged a complaint against Sportsbet in the hope the Northern Territory Racing Commission would find that all or some of the bets they placed between October 1 and October 6 were unlawful, so the wagerer would have to return some or all of the monies back to them.
The complainant also lodged similar proceedings against another wagering group Bet365. The commission found that although Sportsbet did eventually take the correct action, it failed to escalate the consumer behaviour quickly enough, resulting in thousands of dollars in losses for the customer.
"Sportsbet did fail to identify that the complainant was wagering for an extended period of time without a break and that this period of wagering differed to his previous wagering activity with Sportsbet [albeit that he had only been a customer of Sportsbet for some four days before this wagering activity took place and therefore Sportsbet had a limited customer history with which to
compare]," the decision notice said.
Sportsbet employs about 32,000 people and holds about 50 per cent of the Australian betting market. Its annual profit in 2022 was $1.5 billion. The group has been vocal about its new consumer protection technology, which it recently offered to share with competitors to make the overall gambling experience safer at a recent parliamentary hearing into gambling harm.
A Sportsbet spokesperson said that the commission acknowledged Sportsbet took "appropriate" steps in suspending the customer's account, but its consumer protection had developed since the complaint was lodged.
"We recognise that in this instance we should have engaged with the complainant earlier than we did," the spokesperson said. "In the three-and-a-half years since this matter occurred, Sportsbet has made further significant investments in safer gambling technology and has advanced its practices."
The Northern Territory Racing Commission is the regulator for almost all sports betting companies in Australia and admitted in February its fines for corporate bookmakers pale in comparison with the $50 billion industry it tries to regulate.
The commission's chair, Alastair Shields, told the parliamentary inquiry into online gambling harm in February the fine threshold is one of the issues the NT government's five-year review of the surrounding gambling legislation will seek to address.
The commission has not suspended any gambling operators since 2018 but said the threat of suspension was enough to improve operators' behaviour.
Earlier this year, Sportsbet paid a record infringement notice of $2.5 million after the Australian Communications and Media Authority found it sent more than 150,000 marketing text messages and emails to more than 37,000 consumers who had attempted to unsubscribe.
The group said at the time it was committed to ensuring past failings were not repeated.
The Business Briefing newsletter delivers major stories, exclusive coverage and expert opinion. Sign up to get it every weekday morning.
Most Viewed in Business
From our partners
Source: Read Full Article