Australia's worst performing 'choice' super funds revealed
Super funds owned by Westpac, IOOF and AMP, along with industry funds – EISS Super and Aware Super – are among the worst performing 'choice' superannuation products, in the latest iteration of the prudential regulator's push to name and shame dud funds.
The Australian Prudential Regulation Authority (APRA) has released the third instalment of its annual heatmaps initiative, that uses data analysis to rank super funds against a tailored benchmark of fees and returns. The project covers around 60 per cent of the $3.4 trillion super industry.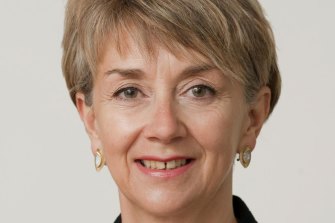 APRA's executive board member Margaret Cole says there is considerable room for improvement in superannuation. Credit:
The analysis had previously ranked only MySuper products (default funds) but has now expanded to 727 choice products, finding two-thirds had delivered below-average returns and one-quarter delivered significantly poor returns over a seven-year period.
APRA found the worst performing choice products were concentrated to eight trustees: BT Super for Life, OnePath OneAnswer Frontier, Perpetual WealthFocus, Zurich, Christian Super, Australian Catholic Super – Personal, EISS Super, Aware Super – Tailored.
Three of these funds – EISS, Christian Super and Australian Catholic Super – also failed APRA's first performance test in August that named the country's 13 worst performing MySuper products. This chronic under-performance has forced APRA to impose additional license obligations and set deadlines for EISS and Christian Super to find a merger partner.
Choice super funds can charge higher investment fees (up to 2.2 per cent per year) for active management styles or exposure to additional asset classes, such as private equity and alternatives. However, this does not necessarily translate into benefits for members with one quarter of high-fee choice options providing below-average returns, according to the data.
In addition, APRA found almost one-third of choice funds had "significantly higher" administration fees than average, with the worst offenders, which APRA dubbed "crimson-rated", including Tidswell, Asgard, IOOF's Portfolio Service Superannuation Fund and Future Super Fund.
Choice funds had greater variety in admin fees, compared to MySuper products, with the highest annual fee ($780 per year) more than 3.5 times the average. The regulator found the majority of high-cost funds had smaller, with less than $10 billion in assets, and encouraged trustees to pursue scale through mergers.
Alongside the results, APRA also revealed which funds narrowly passed the inaugural performance test, including TWU Super, BT's Westpac Group Plan MySuper and Rest Super. This test was part of the federal government's superannuation reform package that aims to stamp out under-performing funds.
Since the first heatmap was released in late-2019, 22 MySuper products that were named and shamed have closed. APRA executive board member Margaret Cole said the results showed there remained "considerable room for improvement" in the $3.4 trillion superannuation industry.
"In particular, a sizable proportion of the choice sector has been exposed for delivering poor outcomes, especially considering these products generally charge higher fees than their MySuper equivalents," she said.
"With a legal duty to act in their members' best financial interests, all trustees should now be scrutinising the heatmap findings to assess the outcomes they are delivering members, better understand any drivers of poor performance and then taking prompt action to address areas of concern.
"If they are unable or unwilling to do so, they need seriously to reconsider whether their members would be better served with their money elsewhere."
A spokesman for Aware Super said the majority of its members were in top-performing funds. "Only a fraction of our members – fewer than 1.6 per cent – are in the products in question, and we've already addressed the historical performance issues to ensure that these members are now experiencing strong investment outcomes and competitive fees."
Most Viewed in Business
From our partners
Source: Read Full Article