Florida's Puerto Rican voters courted heavily by Republicans and Democrats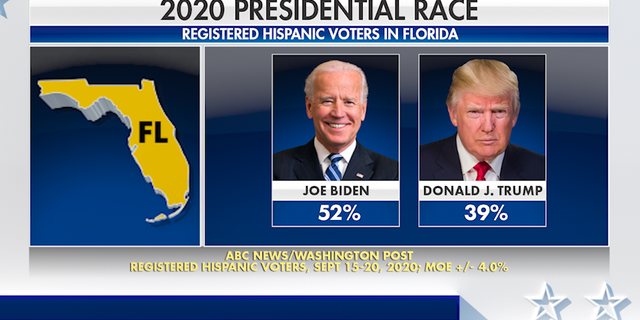 The findings of a poll released by ABC News/The Washington Post this week show the former vice president with a comfortable lead among registered Hispanic voters.
When it comes to how Florida's Puerto Rican voters specifically will swing, traditional thought suggests a significant tilt toward the Democrats. But Rivera contends it's not that simple. For many who've moved from the island to the mainland, it's taken a few election cycles to get acclimated and to determine which party fits best.
"In Puerto Rico, politics are not necessarily the Democrat-Republican divide as a lot of us are accustomed to here in the United States," explained Rivera, adding that Puerto Rican politics typically would come down to what one believes the "status" of Puerto Rico should be – including statehood, commonwealth status and independence.
So, when moving from the island to Florida, many opt to register as "No Party Affiliation." Rivera is working on gathering data specific to Puerto Rican voters but estimates that those who register as "NPA" are a significant lot — if not a plurality.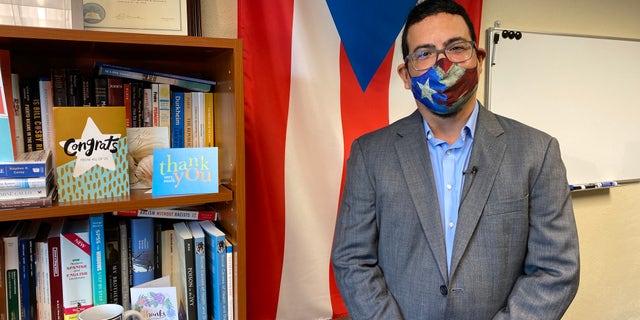 Fernando Rivera, a professor of sociology at the University of Central Florida and the director of the Puerto Rico Research Hub.
(Robert Sherman, Fox News)
"When elections are going to be decided by a few votes, that grab of the non-partisan is really important," said Rivera, who suspects that Biden will more than likely carry the group at large but also anticipates Trump will pick up a sizable number of voters.
One voter who says he'll be casting his vote for Trump this year is Josue Sanchez of Jacksonville. He moved to Florida from Puerto Rico in 2016 to pursue a new engineering job and was told from the beginning he effectively "had" to be a Democrat because he's a Hispanic man.
In September of 2016, he registered as one.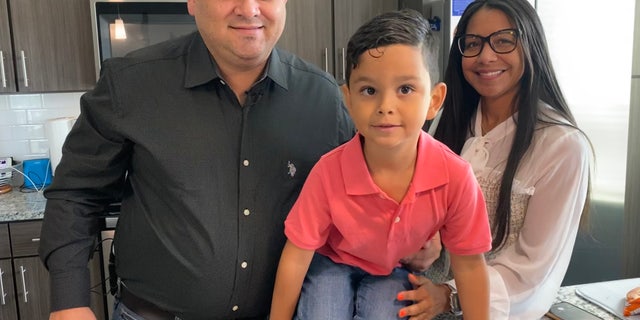 Josue Sanchez (left) moved from Puerto Rico to Florida in 2016 with his wife and son. After initially registering as a Democrat, he voted for Trump and intends to do so again.
(Robert Sherman, Fox News)
"For that time, I was in the learning curve, so I decided, 'yeah, I am a Democrat,'" Sanchez explained. "So, my wife and I, we decided to do that."
Quickly, his thoughts changed as he started to conduct more research on his own. When it came to issues like abortion and capitalism, he felt his home was with the Republican Party. So he voted for Trump in 2016, which he said led to a number of incredulous reactions from his friends.
BIDEN: HISPANIC SUPPORT HAS 'GOTTA GO HIGHER'
"People were like 'Are you crazy? Are you crazy?' I said, 'No, I'm not crazy.' I've been reading and watching [the news] and I understand it's the best decision I've ever made."
As far as Sanchez is concerned, the now-registered Republican believes the president has done enough to earn his vote a second time, and he believes Trump is best fit to get the economy going again — without the use of socialism he fears may come from the left.
"If the economy starts getting better, the people start getting better as well," Sanchez said. "More work, more projects…it's not free money, it's not about getting free money. We want to work!"
For Ivan Nieves, his journey to Miami came under devastating circumstances. He used to own a small business in Puerto Rico, which he loved. But after Hurricane Maria hit, he was forced to relocate to Miami, where he now owns the restaurant La Social.
At this point, he's had enough of the president's rhetoric, so he's voting for Biden.
"Immigrants are not important to [the Trump] administration. They have shown that small businesses are not important for this administration," said Nieves, pointing to the president's response to coronavirus, which he perceived as insufficient.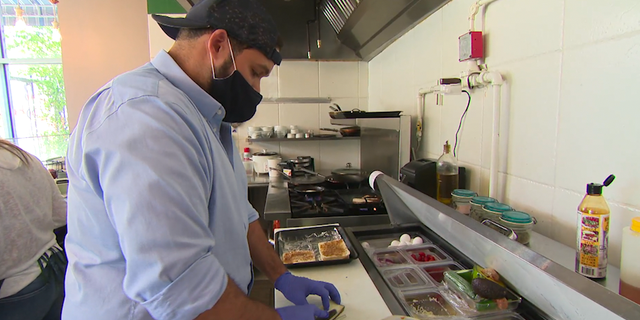 Ivan Nieves moved to Miami from Puerto Rico in the aftermath of Hurricane Maria. Now a small business owner, he says he believes Joe Biden is best fit to get the country back on track.
(Ben Gonzalez, Fox News)
Like Sanchez, Nieves said getting the economy up and running has been crucial. But he added that he believed Biden and his VP pick, Kamala Harris, will be better fit to help everyday people like him.
"I'm going to vote for someone who at this point has demonstrated to myself that they're going to listen, they're going to work for us, and they're going to move forward thinking about the country we have in 2020 and the people who belong to that country," Nieves said. "I think Biden and Kamala Harris have demonstrated that they're looking to unite the country, that they're looking to rebuild ourselves, to work together – doesn't matter if you're a minority or not."
With the election less than two months away, neither Sanchez nor Nieves have seen any situation in which they would change their votes.
Nevertheless, both Trump and Biden have been taking continued steps to court Puerto Rican voters.
Still, Rivera said it will all come down to turnout. With the margins expected to be so tight once again, he thought Puerto Ricans could be one of those deciding factors in whether Florida stays red or flips.
"Biden might need to accelerate the outreach of the Puerto Rican vote and make sure they go out and actually vote because that's something he may need to swing the state," Rivera said.
Source: Read Full Article