The '70s and '80s furniture back in fashion, and worth thousands
Save articles for later
Add articles to your saved list and come back to them any time.
Earlier this year, retailers pulled out all the stops at the much-anticipated Melbourne Design Week. While there was a nod to the future, some fondly celebrated the more recent past, showing great furniture from the 1970s and '80s.
Those strolling along Gertrude Street in Fitzroy would have noticed the graphic camouflaged AEO armchairs by Italian designer Paolo Deganello in the window of Castorina & Co. Framed by a multifaceted wall, these chairs certainly stopped traffic.
Tramonto a New York Modular Sofa by Gaetano Pesce – just 50 were made and sell today for over $40,000.Credit: Paola Pansini
At the start of the 1980s, with the advent of the Memphis movement, designs became even wilder, blurring the division between art and furniture.
"Furniture goes in waves or cycles, and it's certainly timely to look at the 1980s, not just for furniture but in other areas such as fashion and music," says Ugo Cocchis, who owns Castorina & Co. with Patrizia Castorina.
"The design was quite radical and quite bold both in shape and colour. It's now also quite valuable," adds Cocchis, who recently sold an original Cannaregio Sofa, circa 1981 for $40,000 (including GST).
This module piece with large adjustable pillows/backrests showed that navy, black and purple leather could work as a palette. While this lounge was snapped up by a collector, the two Campo armchairs by Jonathan de Pas, Donato D'Urbino and Paolo Lomazzi, designed for Zanotta in 1984, are still waiting to find an appreciative buyer, retailing for $8000.
The two leather chairs with their high backrest and vibrant red cushions add that pop of colour. "We have customers waiting to see what we bring in – and for anything but 'too safe'," adds Cocchis.
While you won't find the Wink Armchair, designed by Toshiyuki Kita at Castorina & Co. – well, at least not now – this extremely flexible chaise has been coveted by design buffs since it was released by Cassina in 1980.
Often referred to as the "Mickey Mouse" lounge for its large and colourful ear-like headrests, the chair retails for just over $11,000 and easily morphs from a lounge to a chair with a few simple adjustments. Interior designer Lucy Marczyk cites the Wink Armchair as her all-time favourite.
"It's so playful and continually changes with its moving parts. It's a great chair to take a nap in or read a book. It also has a certain theatrical quality. It could be seen as two different characters in a film depending on the way it's used," says Marczyk, who sees this design as aligned to some of the great bands that were around in the early 1980s such as RUN DMC, a hip hop group that make its mark on the New York club scene.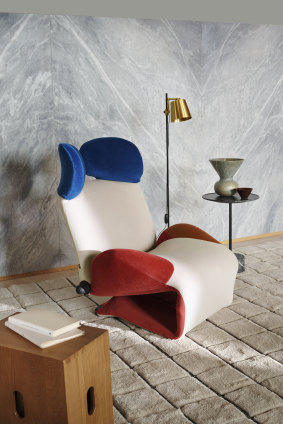 Wink armchair by Toshiyuki Kita.Credit: Mobilia
Mobilia, which has showrooms in Perth and Melbourne, has a number of great 1980s designs represented, including the Wink Armchair. "This chair really allows the ultimate in customisation," says owner Sam Fazzari, pointing out the many colourful parts.
The Tramonto a New York Modular Sofa by Gaetano Pesce circa 1980 reimagines the New York skyline with its skyscrapers framed by a large sunset. In a limited edition of only 50, with each one individually signed by the great Pesce, the price tag reads $41,000 (including GST).
"There's a strong emotional reaction when you start looking at furniture from this period. It was a period of adventure and a great moment in design," says Fazzari, who can almost see this lounge at home in Studio 54 – a New York destination for the glam set such as Andy Warhol and Liza Minnelli.
From today's perspective, the late 1970s and early '80s remain radical, pushing the boundaries of what furniture could be. Marczyk sees this as a time of change, something the Wink Armchair epitomises.
"Even if was released entirely in beige, which it wasn't, I would still love it as much," she says.
Stephen Crafti is a specialist in contemporary design, including architecture, furniture, fashion and decorative arts.
For expert tips on how to save, invest and make the most of your money, delivered to your inbox every Sunday, sign up for our Real Money newsletter here.
Most Viewed in Money
From our partners
Source: Read Full Article