Reworked ANZ-Suncorp deal could help it get across the line
Save articles for later
Add articles to your saved list and come back to them any time.
ANZ could restructure its $4.9 billion dollar planned purchase of Suncorp, which was rejected in its original form by the competition watchdog last week, to improve its chances of getting the deal through on appeal at the Australian Competition Tribunal, investors have said.
White Funds Management managing director Angus Gluskie said ANZ and Suncorp had an "outside chance" at having the deal approved by the tribunal, but modifying the deal would improve ANZ's chances.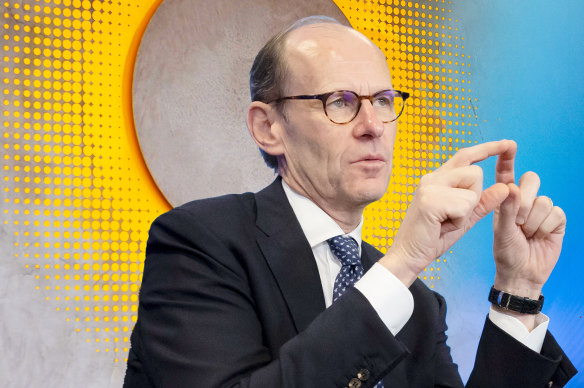 CEO Shayne Elliott and his team at ANZ could shed some of its assets to improve the chances of getting their planned purchase of Suncorp through the competition tribunal, investors have said.Credit: Australian Financial Review
"They might be able to reshape it into a situation where it's a more passive investment on behalf of ANZ in a bank that continues to operate as a separate competitor in its own market," he said.
In a blow to ANZ's growth ambitions and Suncorp's hopes to becoming a pure-play insurer, the Australian Competition and Consumer Commission (ACCC) on Friday vetoed what would have been the biggest transaction in Australian banking since Westpac's 2008 takeover of St George, arguing the deal would further entrench the country's banking oligopoly.
ANZ said it would challenge the watchdog's ruling at the Australian Competition Tribunal and Suncorp said it would support ANZ in making its case.
Citi analyst Nigel Pittaway said the tribunal's criteria could be slightly different to that of the ACCC, potentially giving ANZ and Suncorp a better chance at having their deal approved.
"Although far from certain, we believe the deal could have a much stronger chance of being approved by the tribunal than the ACCC per se," he said. "However, even if we are correct here, this will likely delay the sale for another six to nine months to around mid-2024."
Atlas Funds Management chief investment officer Hugh Dive said ANZ could improve its chances at getting the deal through the tribunal by shedding some of its assets in Queensland.
"I think what they might do is they may have to try to sell some assets," he said. "It's a bit harder than, for example, shedding a couple of factories, but it may involve shedding assets in agricultural lending in Queensland."
Some, including Morgan Stanley analyst Richard Wiles, said if the acquisition was knocked back, ANZ could announce a buyback of more than $4 billion. JP Morgan analyst Andrew Triggs also pointed the possibility of a large capital return program if the deal does not pass the tribunal, noting ANZ had about $5 billion in surplus capital.
However, Dive said a buyback was unlikely even if the deal was not approved by the tribunal.
"In a normal situation, ANZ might think about doing that, but given the opaque outlook for the banks, particularly bad debts, I don't think the Australian Prudential Regulation Authority would be too delighted with them doing a buyback right now," he said.
Analysts had mixed views on the significance of the deal for ANZ, but said another knockback at the tribunal would be a substantial setback for Suncorp.
"Suncorp would be left with a second tier bank where it's competitively difficult to operate against the major players," Gluskie said. "If they were fully blocked on this, they'd need to look at other avenues such as tie-ups with other second tier banks or opportunities with overseas banking operations. It's a much bigger issue for Suncorp."
The Market Recap newsletter is a wrap of the day's trading. Get it each weekday afternoon.
Most Viewed in Business
From our partners
Source: Read Full Article