Not the 'Australian way': EY review reveals racism, bullying and overwork at consulting firm
Save articles for later
Add articles to your saved list and come back to them any time.
An independent review of EY's workplace culture, following the death of a staffer last year at its Sydney office, has revealed the extent of racism and sexual harassment at the consulting firm, as nearly half of employees reported overwork had affected their health.
The report, by former sex discrimination commissioner Elizabeth Broderick, revealed that 15 per cent of current and former female employees who participated in the review experienced sexual harassment over the past five years, and 17 per cent experienced bullying.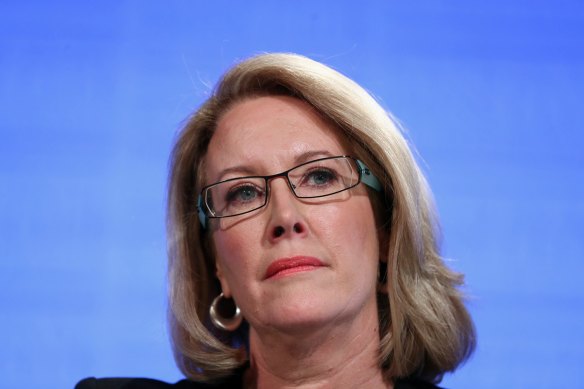 Former sex discrimination commissioner Elizabeth Broderick led the review of EY's workplace culture.Credit: Alex Ellinghausen
About 16 per cent of employees who identified as ethnically Indian experienced racism over the past five years; for those who identified as Chinese the figure was 15 per cent, and the figure was 21 per cent for those who identified as Maori.
The review interviewed 4171 employees and followed last year's death of Indian-born auditor Aishwarya Venkatachalam, who worked at the firm's Sydney office, where there have been reports of racism, bullying and a brutal culture of overwork.
"There are findings in the report that are distressing and completely unacceptable," said David Larocca, the head of EY's Oceania operations.
"Bullying, sexual harassment and racism have no place at EY Oceania and I apologise to anyone who has suffered as a result."
One employee told the review: "I tried to coach one Indian worker who was excluded. No one wanted to coach [them], people would also say that you can't put X in front of [the client] … [they are] very enthusiastic but not in the 'Australian way'."
Another respondent said: "There are some partners I wouldn't be in a room alone with."
A third respondent said: "The partners protect bullies. Often they are bullies and aggressive themselves."
The report showed overwork was one of the few issues that cut across all sectors of the firm, with nearly half of EY respondents saying their health had been affected by long work hours. One-third of staffers said overwork was an issue unlikely to be addressed.
"We are often told we are replaceable and that we are lucky to work here – there's a churn-and-burn mentality and partners are incentivised not to care about staff wellbeing because there's someone else on the conveyor belt ready to come in," a respondent said.
"The partnership culture at the end of the day is really about making money."
EY has said it would implement all 27 recommendations from Broderick's report, including moves to reduce excessive hours and a revision of key performance indicators to strengthen leadership.
EY has been embroiled in the grilling of the big four consulting firms following the PwC tax leak scandal, where a former partner was banned after using confidential government plans to combat tax avoidance to market workarounds for the companies targeted.
EY told a Senate inquiry this month that it had fired eight partners in the past two years for misconduct that included sexual harassment, bullying and dishonesty.
The Business Briefing newsletter delivers major stories, exclusive coverage and expert opinion. Sign up to get it every weekday morning.
Most Viewed in Business
From our partners
Source: Read Full Article