Bubs CEO hopeful takes a shot at board as war of words intensifies
Save articles for later
Add articles to your saved list and come back to them any time.
Peter Nathan, the former A2 Milk executive gunning for the top job at Bubs Australia through a boardroom spill, says the company's management is distracted and lacks the track record of commercial success needed to steady the troubled infant formula maker.
"Save Our Bubs", the group of concerned shareholders led by ousted chief executive Kristy Carr, will make its case to investors in the coming days through a series of webinars, starting with a session featuring chairman nominee James Jackson on Friday.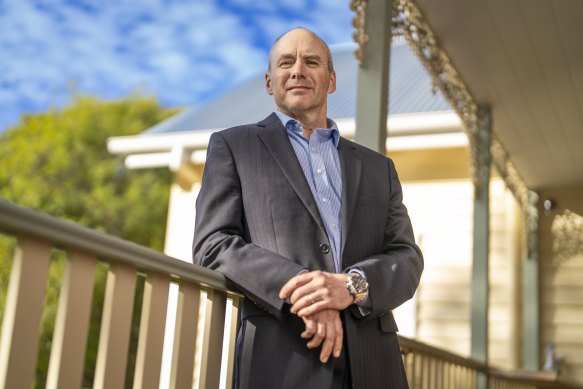 Peter Nathan is seeking to become CEO of Bubs Australia.Credit: Eamon Gallagher
In a letter sent to Bubs shareholders on Wednesday, Nathan argued his 14 years in leadership at A2 Milk, which saw its market valuation grow from $30 million to $5 billion, shows he has the right industry insights to help Bubs succeed in the crucial China market.
The letter questioned the commercial track records and focus of the current board, which is led by Katrina Rathie.
"Bubs Australia has achieved remarkable success to date and I believe the Bubs brand has a very strong opportunity to return to high growth and value creation for shareholders," he said.
"But its turnaround must be managed by a leadership team that has not just watched these things happen but has actually made them happen. I know that you can appreciate the very big difference."
Nathan said the fact that the current management had not named a permanent chief executive or a chief financial officer ahead of a vote on a board spill motion on July 27 also showed a lack of focus.
"Worryingly, as they continue to operate without a permanent CEO or CFO, it is clear they are highly distracted and sadly focused on the past – creating negative headlines and legal disputes with key strategic partners," he said.
The spectacular corporate fallout between Bubs Australia and the company's founder and former boss Kristy Carr will come to a head in two weeks when investors vote on whether to spill the board and install Nathan and a board including James Jackson and director nominee Rupert Soar on July 27.
Bubs current management have warned investors to vote against the spill motion. The company argued last month that shareholder class actions at A2 Milk, Nathan's former employer, could present reputational risks.
The two parties have been warring over a range of issues, but at the heart of the debate is how Bubs should tackle the infant formula market in China.
Bubs management revealed findings from a strategic review last week, telling shareholders it has dumped its former China distributors and will seek regulatory approval from Beijing for its Melbourne factory. 
"Save Our Bubs" will outline details of its plan for the company from Friday across three webinars featuring Jackson, Nathan and Soar. The events will be chaired by executive chairman of AgFood Fund and co-founder of corporate advisory firm PAC Partners, James Jensz. PAC was the co-manager for a $63 million placement completed by Bubs in July 2022, according to the firm's website.
Bubs shares have gained 23.2 per cent over the past five days and were sitting at 26 cents in Thursday afternoon trading.
With Jessica Yun
The Business Briefing newsletter delivers major stories, exclusive coverage and expert opinion. Sign up to get it every weekday morning.
Most Viewed in Business
From our partners
Source: Read Full Article