Musk has more to worry about than cage fight with Zuckerberg
Save articles for later
Add articles to your saved list and come back to them any time.
Billionaires behaving badly is ripe for a reality program. Last month Elon Musk threw down a challenge to Mark Zuckerberg to duke it out in a cage fight. If only.
There is a brand of modern billionaires for whom the real battle is for "share of microphone". Personal publicity for the eccentric mega-wealthy is a tool used to heighten awareness of their ubiquitous brands. And appearing like a couple of frat boys limbering up for a wrestling match helps with the headlines.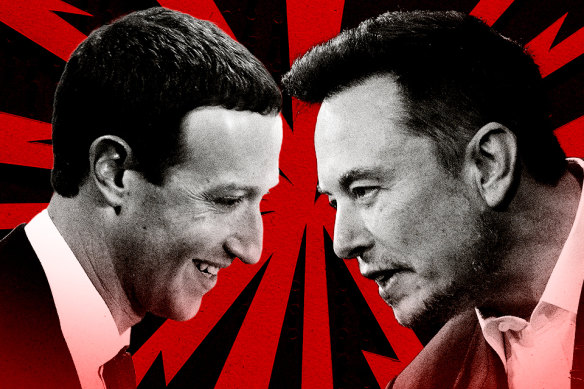 Forget cage fighting, Mark Zuckerberg is going up against Elon Musk in his traditional arena of social media too.Credit: Aresna Villanueva
And this week, Musk won the title of the world's wealthiest man with Zuckerberg coming in ninth place. Musk added $US96.6 billion ($145 billion) to his net worth this year through June 30, while Zuckerberg gained $US58.9 billion. Whether Musk retains the top spot on this league table depends on the share price trajectory of his electric vehicle company, Tesla.
Right now, this is moving in his favour spurred by June quarter deliveries of his eclectic vehicles coming in well above expectations. This alone pushed the share price up almost 7 per cent and capped off a six-month boost of 154 per cent in Tesla stock.
But the real contest will take centre stage on Thursday (AEST) when Zuckerberg's new messaging service, Threads, goes live, taking the fight directly to Musk's Twitter.
This is a real head-to-head contest that social media experts contend is a no-win for Musk, who has been struggling to turn around the struggling Twitter since last year when he paid $US44 billion for the apparently loss-making messaging platform.
Twitter is now a wounded corporate beast – vulnerable to copycats, including but not limited to Threads.
A series of moves by Musk to turnaround Twitter's financial fortunes since he took ownership appear to have backfired as he has attempted to move the service to more of a user-pays model – layering customers based on subscription pricing. And most recently it has restricted viewing for people without Twitter profiles.
Not only has Twitter alienated users since Musk acquired it last year, but advertisers, who previously accounted for roughly 90 per cent of revenue, have been leaving in droves.
Chief among advertiser concerns is a view that Twitter is no longer a safe place – people can post racist, sexist, or otherwise harmful speech without much consequence.
Back in January, swaths of staff from Twitter's content moderation team which policed offensive or harmful posts has been fired, partly reflecting Musk's free-speech absolutist ideology, and partly to cut costs.
Corporate advertisers are protective of their brands and don't want to be tarnished by association.
In other words, Musk didn't need Zuckerberg's competitive challenge to threaten his social media business. Twitter was in trouble before Zuckerberg's Meta decided to mimic Twitter.
Twitter is now a wounded corporate beast – vulnerable to copycats, including but not limited to Threads.
Several apps that bear a striking resemblance to Twitter have sprung up in recent years, such as Donald Trump's Truth Social and Mastodon.
Another similar app, the Jack Dorsey-affiliated Bluesky, claimed to have had "record" traffic after Musk's move to restrict usage at the weekend.
Some in the industry have even referred to Threads as the "Twitter Killer".
But it is Zuckerberg's Threads that will present the greatest challenge. It has been tied to Meta's other popular social sharing platform Instagram. Those signing up for Threads can piggyback Instagram accounts by retaining their usernames and migrating their followers.
According to data provided by German software company Sistrix, Twitter's visibility has plummeted by 25 per cent in critical markets such as the UK (28 per cent drop), France (down 17 per cent), Italy (26 per cent fall) and Germany (25 per cent decline) since the weekend when its usage was restricted.
Separate research by Evolving Digital shows that Twitter's projected traffic in Australia dropped by 34.6 per cent over the past eight days, representing a loss of 3.3 million compared with the preceding week.
Social media is the real battleground. Threads is a clear and present danger.
The Business Briefing newsletter delivers major stories, exclusive coverage and expert opinion. Sign up to get it every weekday morning.
Most Viewed in Business
From our partners
Source: Read Full Article