Does it make sense to invest in Britannia?
The stock has gained over 10 per cent in the last month but it could still have an upside, with valuations between Rs 5,200 and Rs 5,700 from several analysts and strong 'buy' consensus.

Devangshu Datta reports.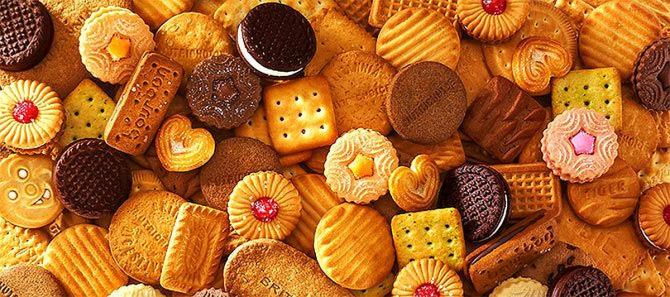 Fast-moving consumer goods (FMCG) major Britannia produced good results for the fourth quarter of the 2022-23 financial year (Q4FY23) and the outlook seems promising with the whole FMCG sector seeing some demand revival.
Britannia's consolidated Q4FY23 revenue increased by 11 per cent year-on-year (YoY) to Rs 4,023 crore and earnings before interest, tax, depreciation and amortisation (Ebitda) margins improved significantly to 19.9 per cent from 15.5 per cent a year ago, aided by price increase and favourable forward cover on wheat futures.
Cost of raw materials to revenue stood at 55.1 per cent (62 per cent a year ago and 56.3 per cent in Q3FY23).
Ebitda grew 45.7 per cent YoY to ~800 crore. Reported profit after tax or PAT grew by 47.5 per cent to Rs 557 crore. Adjusted PAT grew by 47 per cent YoY to Rs 558 crore.
Management guidance is that volume growth is expected to improve in FY24 while the strategy will be to hold or gain market-share with Ebitda margin target of between 16-19 per cent.
Capex is expected to moderate after FY24 but for the ongoing FY, it is expected to be between Rs 500 and Rs 600 crore, largely for the dairy business.
If necessary, price will be held to guard market-share gains in rural/ semi-urban areas and the company has already initiated price cuts in tandem with lower inflation.
Volume growth was flat — around 1 per cent in Q4, YoY. Rural market-share gains were much higher than overall India.
The product mix remains around 77 per cent biscuits.
The entire business is split into three parts –biscuits, cake and rusk and other adjacencies like breads, new categories (contribution of 11.5 per cent of total sales).
Inflation may be cooling off now, but milk was up 20 per cent quarter-on-quarter (QoQ) and up 55 per cent YoY. Palm oil, laminates, boxes all saw QoQ price reductions.
In FY24, management hopes for 3 per cent inflation, down considerably from FY23 (above 6 per cent).
The direct distribution reach was around 2.7 million, up by around 2 lakh.
New products launched in last 24 months contributed around 3.5 per cent to FY23 revenues.
Britannia has issued non-convertible debentures to shareholders, who can opt to monetise with a separate listing.
This is an interesting move as the company has also been offering ICDs (inter corporate deposits) to corporates, including to group companies.
The firm has a policy of utilising about 25 per cent of cash flow for capex and about 70 per cent for dividend payouts.
The stock has gained over 10 per cent in the last month but it could still have an upside, with valuations between Rs 5,200 and Rs 5,700 from several analysts and strong 'buy' consensus.
Disclaimer: This article is meant for information purposes only. This article and information do not constitute a distribution, an endorsement, an investment advice, an offer to buy or sell or the solicitation of an offer to buy or sell any securities/schemes or any other financial products/investment products mentioned in this article to influence the opinion or behaviour of the investors/recipients.
Any use of the information/any investment and investment related decisions of the investors/recipients are at their sole discretion and risk. Any advice herein is made on a general basis and does not take into account the specific investment objectives of the specific person or group of persons. Opinions expressed herein are subject to change without notice.
Source: Read Full Article