HELP! I've paid $3000 of my student loan, but am now more in debt
Save articles for later
Add articles to your saved list and come back to them any time.
Come June, I will have paid back about $3000 of my student loan but, perversely, I will be more in debt – at least on paper – than when I finished my degree.
It's all because of something called indexation, which means the loan – known as HECS/HELP – is adjusted up or down depending on inflation. As you know, inflation has gone through the roof in the past year, and will flow through to student loans – because that's how it's always been.
Most students wouldn't have taken a 7.1 per cent indexation into their debt calculations.Credit: Steven Siewert
HECS/HELP was introduced back in 1989 as an interest-free loan indexed every year, which students start repaying once they reach a certain income. Repayments are automatically deducted as a percentage of your income before tax – and the proportion taken away increases the more you earn.
Eagle-eyed critics will say it's not the first time that HECS/HELP loans will have been indexed by such a high amount. In 1990 – the first year of the program – they jumped 8 per cent.
But for most of the 1990s, wages grew fast enough to keep up with inflation – and often much faster than that. And at no point did they fall short of inflation for as long as they have recently. For the past two years, we've copped a cut in real wages. Most recently, in December, prices soared 7.8 per cent over the year, but wages climbed just 3.3 per cent. While our HELP loans are growing, our real wages – and our ability to pay off that debt – have gone backwards.
Even before the 7.1 per cent indexation kicks in, the time it takes to repay our HELP has increased from 7.3 years in 2005 to 9.5 years in 2021.
We're also funding a much larger slice of our degrees ourselves. In 1989, the government funded 78 per cent of a Commonwealth-supported place. By 2022, it paid for 51 per cent. For the hardest hit – those studying disciplines including accounting, law and economics from 2021 – the Job-ready Graduates package reduced the government contribution to just 7 per cent.
That means students are paying more for many degrees. At its most extreme, a humanities degree which cost $19,800 in 2010 (adjusted for inflation) would set you back $43,500 in 2021 – more than double.
While governments have tied our loan increases to inflation for decades, they haven't always been as eager to raise our repayment threshold – the income at which we have to start repaying our HELP – by the same percentage.
Over the past three years, the threshold has increased in line with inflation, from $46,620 in 2020 to $48,361 in 2022. But look a little further and you'll see that across 2018 and 2019, the repayment threshold was slashed from $55,874 to $45,880 – the largest percentage drop in the threshold in more than 20 years. We're paying off bigger loans, starting earlier.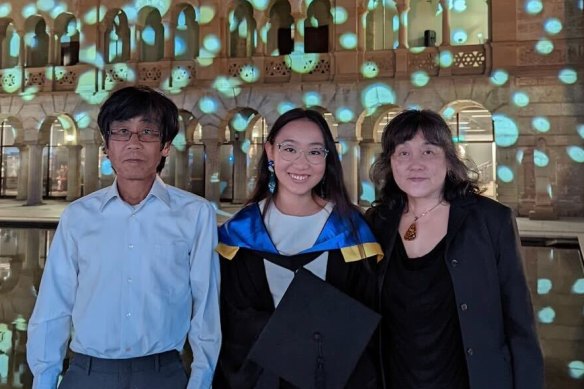 Millie Muroi, her dad Michihito and mum Riyoko, at her University of Western Australia graduation in 2021.Credit: Millie Muroi
Fortunately, HELP doesn't affect our credit scores, but it does reduce borrowing power. We're not only battling against exorbitant house prices and lower wages, but also banks baulking at the idea of lending to us – because of a debt we're told we shouldn't worry about.
Since HELP repayments are deducted from our pay cheque, they reduce our income and therefore how much banks are willing to lend us for home loans.
There's an argument to be made that we knew what we were getting into when we took on HELP – but a 7.1 per cent indexation was not in most – if any – of our calculations.
The Greens' recent proposal to freeze indexation on student loans may have been rebuffed, but it shouldn't be written off. In the meantime, experts such as ANU professor Andrew Norton have suggested indexing the loans to the lesser of inflation or the 10-year bond rate. The latter, Norton says, indicates how much it costs the government to have HELP debt sitting on its books. There's also a case to index the loan to wage growth. It's worth considering.
The most common response to those complaining about HELP is that it's probably the only zero-interest loan we'll get in our life. Don't get us wrong – we're grateful we don't have to pay tens of thousands of dollars upfront.
There's a fine line between making life a little less tough for taxpayers and being fiscally irresponsible, but education is a key driver of economic growth.
Some of us may have made the investment at an especially unfortunate time, but it will pay off – it just helps to get a breather while we find our feet.
The Opinion newsletter is a weekly wrap of views that will challenge, champion and inform your own. Sign up here.
Most Viewed in Business
From our partners
Source: Read Full Article