Don't 'set-and-forget': What young workers should know about their super
Australia's superannuation industry is worth some $3.3 trillion, and the importance of super has been long embedded into our culture (think the 'from little things, big things grow' jingle). However, despite its size and importance, there is a strong set-and-forget mindset among young Australians when it comes to our all-important retirement savings.
We receive our first employment contract, and it asks us to name our preferred super fund where 10.5 per cent of our income will go until we reach our sixties. For most young Australians, that's all we know. We might conduct a small amount of research on the plethora of super funds in the market, but once the initial process is complete we push super out of sight and out of mind.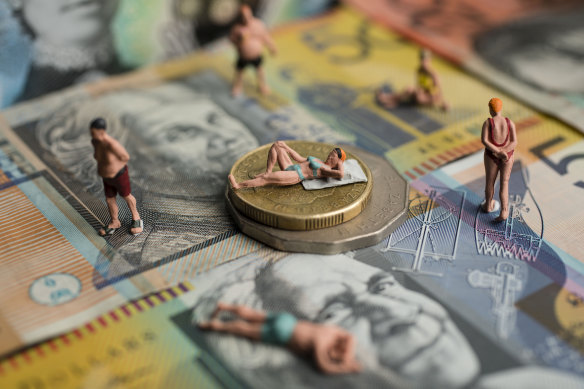 There is a strong set-and-forget mindset among young Australians when it comes to our all-important retirement savings.Credit:
Recently, the spotlight has been shone on Australia's superannuation industry, with debates over tax concessions for large super accounts as well as the disparity between men's and women's super balances. But what about us young Australians? How do we overcome the set-and-forget attitude and become active in the industry?
To put it simply, anytime money is deposited into your super account it's invested on your behalf by your trustee super fund. Investments are made across a range of assets such as property, shares or even cash deposits. Each super fund will have an investment strategy or style which you can view to understand where your money is being invested and where your returns are coming from.
There are a variety of ways we can be active and participate in our super. The obvious starting point is choosing your super fund. This comes down to many factors such as the types of funds as well as fund categories.
We should align our super with a fund that benefits us based on our occupation and income. For example, industry super funds are the largest group of funds in Australia, aimed towards those who work in specific sectors such as healthcare or transport, with all profits going back into the fund itself to benefit you – the member.
As members of super funds, we also have a say in how our money is invested. I can log onto my fund's app on my phone and adjust exactly where I would like my contributions to be invested. My particular fund allows me to select from high growth, balanced, socially aware, index diversified, conservative balanced and stable. The prevailing advice for younger workers is to have your super invested in a growth fund, as the risk factor of high-growth assets is less when your super balance is smaller.
Your employer will contribute to your growing super balance over the time of your employment, however, a concept many young workers greatly underestimate is the importance of voluntary super contributions.
Voluntary contributions are made from your net income outside your employer contributions and are capped at $110,000 each financial year. Let's say you make these contributions of $250 per month for 10 years: that's an extra $3000 per year that is invested in your super. Over 10 years, with an average return of 9.3 per cent, per year, that original $30,000 has returned $73,000.
According to the Association of Superannuation Funds of Australia, $600,000 is the amount to retire 'comfortably' in Australia. I can't speak for all of us, but that extra $73,000 would come in extremely handy if I want to reach that magic number. Superannuation is an industry that we as young Australians can pay more attention to, educate ourselves on, and have our voices heard.
Advice given in this article is general in nature and is not intended to influence readers' decisions about investing or financial products. They should always seek their own professional advice that takes into account their own personal circumstances before making any financial decisions.
The Money with Jess newsletter helps you budget, earn, invest and enjoy your money. Sign up to get it every Sunday.
Most Viewed in Money
From our partners
Source: Read Full Article