'Critical shortage': Miners face talent crunch as metals demand fires up
For our free coronavirus pandemic coverage, learn more here.
Mining companies are struggling to find workers to fill specialist roles from engineers to train drivers as COVID-19 travel restrictions between states and a collapse in skilled migration exacerbate the industry's labour squeeze.
While mining job numbers have swelled by almost 22,000 in the past 12 months, a shortage of specialist workers has forced companies to lower production targets and now threatens to complicate the sector's expansion just as the clean-energy revolution drives greater demand for a range of Australian metals.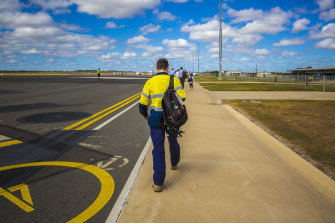 Labour shortages in WA have caused project delays and forced some big miners to downgrade production targets.Credit:Glenn Hunt
In Western Australia, the world's biggest iron ore and lithium-mining region, ongoing coronavirus-related border restrictions have reduced mobility of fly-in, fly-out staff between states. At the same time, miners are having to compete harder for skilled workers amid a government-backed construction boom on the east coast.
Top Australian miner BHP does not expect the problems to ease this year as continued investment in resources and construction collide with ongoing labour mobility restrictions.
"Like many, we are seeing constraints in labour availability and supply chain disruption across our Australian operations," BHP head of Australian mining Edgar Basto said.
"We expect labour market tightness and competition for skills to increase in 2022."
Rio Tinto, the nation's second-largest miner, last year cited "modest delays" in commissioning new greenfield mines and mine-expansion projects due to WA's tight labour market as the reason for trimming its full-year target for shipments of iron ore.
BHP told investors temporary rail labour shortages in WA had contributed to a 5 per cent drop in iron ore output in the September quarter, while lithium miner Pilbara Minerals was also facing project delays due to a labour shortage.
While skilled migrants make up just 0.6 per cent of the industry's workforce, the Minerals Council of Australia warns the international border closure is denying miners access to expertise, deepening the skills shortage for various engineering occupations.
"There is a critical shortage in some occupations including mining engineers," Ms Constable said. "It is positive to see various engineering occupations added to Australia's priority skilled migration list."
By mid-2023, WA's mining and resources sector might need up to 40,000 more workers, according to modelling commissioned by the Chamber of Minerals and Energy WA.
"We expect labour market tightness and competition for skills to increase in 2022."
The talent crunch could threaten Australian miners' ability to meet significant future growth expected across the sector as rising urbanisation and the clean-energy revolution fuel enormous demand for raw materials.
Car makers globally are ramping up plans to build millions of electric vehicles in coming years, requiring vast quantities of ingredients such as copper and lithium mined in Australia. Demand for steel, made using iron ore, is also set to rise with the roll-out of green infrastructure including wind turbines.
Ms Constable said the most in-demand jobs across the sector were mining engineers, heavy-duty diesel fitters, electricians, geologists, electrical engineers and metallurgists.
"The commodities the Australian mining industry produces are essential for modern life and new technologies, and there is tremendous long-term career opportunities in the sector," she said.
BHP said it was investing in a training academy to create 2500 new job-ready apprentices and trainees over the next five years, primarily in regional areas.
Mr Basto said both industry and government had a role to play in putting Australia in the best position to bounce back from COVID-19 "stronger, more resilient and ready to grasp new opportunities".
Across the wider Australian economy, senior business leaders have cited workforce shortages as by far their biggest and most immediate worry as the battered labour market re-emerges from COVID-19 lockdowns.
In a new KPMG survey compiling the views of more than 400 CEOs, executives and directors, nearly two-thirds of respondents have nominated finding and retaining talent as their overwhelming concern heading into 2022 and fear the problems may persist for another three to five years.
Border closures over the past two years have been a strong factor in minimising the spread of the COVID-19 pandemic in Australia, but have left businesses across the economy "urgently requiring additional people resources".
"It is clear that as Australia starts to emerge fully from the lockdowns of the last two years, having enough skilled talent to meet customer needs is the key challenge concerning all businesses," KPMG Australia chairman Alison Kitchen said. "And they don't see this changing in the next few years."
The Business Briefing newsletter delivers major stories, exclusive coverage and expert opinion. Sign up to get it every weekday morning.
Most Viewed in Business
From our partners
Source: Read Full Article