Qantas nears multibillion-dollar shopping spree to shape its future
A multibillion-dollar shopping spree is not what you might expect from a company left battered and bruised by COVID-19 as badly as Qantas.
But fresh from clocking up a $3.72 billion loss over the past two years and being stripped of around $20 billion in revenue, that's exactly what the airline is doing.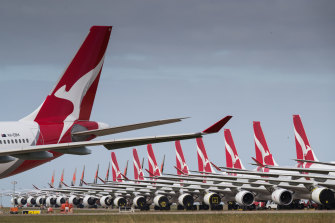 Many of Qantas' 737s, pictured here grounded at Avalon Airport during the COVID-19 pandemic, are almost 20 years old.Credit:Jason South
Chief executive Alan Joyce and his executive team are closing in on a deal to overhaul its domestic aircraft fleet, preparing to order more than 100 new jets with an estimated price tag of around $5 billion in a decision that will reshape its operations for the next three decades.
"It's a huge decision… which has impacts far beyond the current management at Qantas," says Matthew Findlay, a director of Ailevon Pacific Aviation Consulting. "It will commit Qantas to a path which once you start to take, is very difficult to backtrack or change."
Joyce expects to announce his preferred jets models by the end of this year and to place a firm order with manufacturers by the middle of 2022. The first new aircraft should arrive by the end of 2023 and gradually replace Qantas' 75 workhorse Boeing 737s and 20 smaller Boeing 717s over the following decade.
Airbus' A220s and Embraer's E-Jet E2 type jets are in contention to replace the 717s and the Airbus A330neo and Boeing's 737 MAX variant are in line to replace the existing 737 fleet.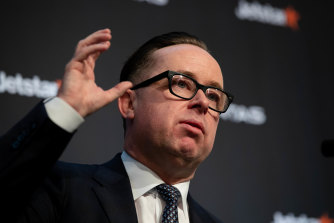 Qantas boss Alan Joyce is set it announce the airline's preferred new aircraft by the end of this year, ahead of placing a firm order by mid-2022. Credit:Janie Barrett
The new 737 MAX aircraft is back in contention following its recertification to fly in Australia in February after Boeing fixed a flight control program which caused two crashes, killing 346 people and prompting an almost two-year grounding of the jet worldwide.
Renewing Qantas' current fleet has been on the cards for several years as many of its 737s approach their nominal retirement age of 20 – 15 of them have been flying for 19 years and another six for 17, according to FlightRadar24 – but the pandemic delayed the decision
Jarden aviation analyst Jakob Cakarnis says that an airline's fleet is considered old when its average aircraft age tops a decade. Qantas' average fleet age is 14 while its major competitor Virgin Australia's is 10.
Virgin also has new 737 MAXs arriving from mid-2023. Not only will that give Virgin a cost advantage by burning around 15 per cent less fuel, Cakarnis says it could undermine Qantas' ability to charge higher prices as the "premium" local carrier.
"Unless Qantas invests now there will be a discernible difference going forward particularly now Virgin has been investing and bringing back new aircraft," says Cakarnis.
"Qantas has managed to get around that by adding Wi-Fi to the aircraft… but it starts to become noticeable from the [cabin] fitout. It could dent Qantas' ability to change a price premium if there's a discernible difference in aircraft age."
While the airline's technical team will obsess over each aircraft model's comparative fuel efficiency and range, Findlay says most passengers don't know if they're flying on an Airbus or Boeing jet.
What will be critical for Qantas getting a return on its multi-billion dollar investment, he says, is doing something special inside the cabin.
"What will they do with the seat? What's going to be next for Qantas as an in-flight product? That's the exciting thing that comes next," he says. "What will Qantas have as a competitive edge against the likes of Virgin or anyone else?"
Singapore Airlines arguably set a new industry standard last month when it revealed it will install full lie-flat beds in its new 737 MAX business class cabins, delivering the type of premium comfort in a single-aisle jet normally only found in long-haul aircraft.
"That's what Qantas is seeing and thinking: do we want to be left behind?" Findlay says.
Qantas and Boeing did not want to talk about their negotiations so close to a multi-billion-dollar deal being signed. Airbus said it was "making a compelling offer to Qantas based on our modern, efficient and sustainable single aisle platforms".
Qantas' budget arm Jetstar will start receiving the first of its new A320neo towards the end of next year out of a massive order of 109. Airbus is offering the latest variation jets in an extra-long range configuration enabling Jetstar to fly the single-aisle jets domestically during the day and then on longer hops to south-east Asia overnight.
"So we're pretty excited about the capability that aircraft gives us," Joyce told the CAPA Australia Pacific Aviation Summit last week, acknowledging it could make sense to buy the same jets for Qantas.
"And then Qantas has Boeing 737s today, so it makes sense also to stick with the Boeing aircraft. There are pros and cons each way."
Jet makers never reveal the price tag on large orders, but Joyce has previously said he expected to land a bargain given few airlines were buying new planes amid the COVID-19 downturn.
Whatever the bill comes to, Qantas will pay some upfront and the rest as the new jets gradually touch down in Australia. Qantas has told investors the project won't cost it more than $2 billion in any one year.
The Business Briefing newsletter delivers major stories, exclusive coverage and expert opinion. Sign up to get it every weekday morning.
Most Viewed in Business
From our partners
Source: Read Full Article