BoQ chief 'excited' about ME Bank despite rising costs, risk problems
Bank of Queensland chief executive George Frazis says he is excited about the ME Bank acquisition, despite rising costs to improve the small lender's operations, risk controls, anti-money laundering compliance and customer experience.
BoQ announced plans to buy ME Bank from its industry superannuation fund shareholders in February and has now had controlling ownership of the boutique lender for two months. In this time, ME Bank's mortgage applications have risen by 36 per cent.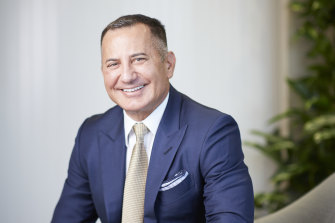 BoQ chief executive George Frazis says he is 'really excited' about the ME Bank acquisition despite rising costs. Credit:Nick Cubbin
BoQ, alongside reporting its full-year results, said on Wednesday it planned to spend up to $140 million over the next two years on integrating ME Bank into its business, which will include upgrading technology and fixing weaknesses of the lender's anti-money laundering program.
"We're really excited by the ME bank acquisition," Mr Frazis said. BoQ had conducted "extensive due diligence" before acquiring the business, he said, and the bank would now incorporate lessons from its previous acquisition of Virgin Money to find cost savings and turn it into a growth engine.
"It is all about looking at the end-to-end process and improving the time to yes [the time to improve mortgage applications]. This is the critical thing," Mr Frazis said. "The other important thing in terms of growth is how your operations are able to handle the volumes.
"Where banks get unstuck is they have either brokers or mortgage lenders that grow in terms of the home loans, but then their operations can't handle it."
BoQ's share price fell by around 5 per cent to $9.25 per share on Wednesday after it flagged costs were expected to increase by another 3 per cent next year as it executes its strategy to overhaul technology, diversify geography and grow through acquisitions. Thirty-three per cent of BoQ's business is in Queensland currently, with 27 per cent in NSW and 21 per cent in Victoria.
The bank said full-year cash earnings were up 83 per cent to $412 million over the 12 months to June 30, and shareholders would receive a final dividend of 22¢ per share, taking its full-year payout to 39¢ per share, up from 12¢ the previous year.
Velocity Trade senior banking analyst Brett Le Mesurier said the results were largely in-line with his forecasts and the market reaction was due to "unjustified optimism heading into the result", but he conceded the ME Bank-related expenses would "put pressure on funding".
"The issue with ME Bank is it doesn't have its own distribution, you have to rely on third parties, which is more expensive," Mr Le Mesurier said.
Evans and Partners executive director Matt Wilson said BoQ's integration costs for ME Bank were "extremely optimistic" after the bank's headline result had missed his forecasts by around 20 per cent.
"It's all about spinning a story to convenience the sell side," Mr Wilson said. "But in reality, we've got lower revenue and higher costs."
BoQ saw its mortgage book increase by around $2.5 billion over the past financial year and business loans grew by $600 million. The bank is now focusing on growing its small business customer segment as the economy rebounds from COVID-19.
However, Mr Frazis said the bank was fortunate as it was not overly exposed to industries hardest hit by the COVID lockdowns such as hospitality and tourism, and praised the Queensland's government's handling of the pandemic.
"The Queensland government has done a really good job in terms of managing this health crisis, and we've seen Queensland broadly stay open for the local economy, so that's been a huge positive for small businesses and businesses in general," he said.
"There's no doubt Queensland is dependent on tourism, so opening the borders in a safe way is something that will need to happen. But that will happen as vaccination rates increase in a sensible way, I'm sure."
The Market Recap newsletter is a wrap of the day's trading. Get it each weekday afternoon.
Most Viewed in Business
From our partners
Source: Read Full Article