A 2-bedroom flat in Hindujas' The OWO costs £5.8 mn!
The OWO is spread over 580,000 sq. ft and rises to seven floors. Its 1,100 rooms are now being converted into 85 residences and a hotel.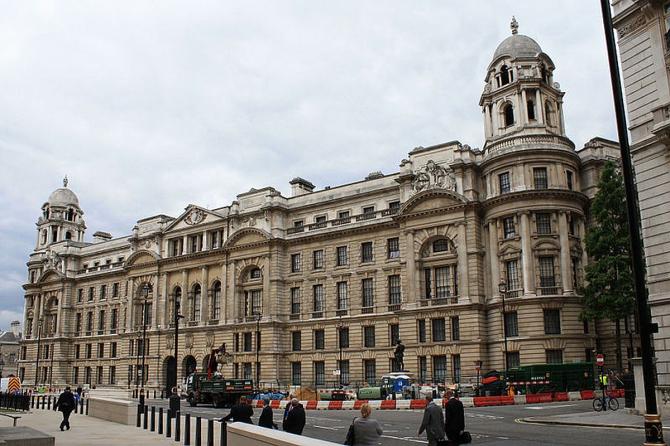 A mere two-bedroom apartment – albeit quite spacious, covering 3,000 square (sq.) feet (ft) – will set you back £5.8 million.
That's the asking price from the Indian-owned Hinduja Group, if you desire a nest in London Whitehall's iconic Old War Office (OWO).
Its 1,100 rooms are now being converted into 85 residences and a first-ever hotel to be operated in Britain by Singapore's legendary Raffles Hotels chain.
Gopichand Hinduja, co-chair of the conglomerate, said: "Every decision made on The OWO (as the building is fondly called) is underscored by our passion and respect for the heritage of the building and long-term commitment to London."
A 250-year lease of the vast property was acquired for a reported £350 million in a successful joint tender with Spanish company OHLD.
There's feverish speculation as to how much a more ample three-bedroom home or a duplex penthouse will be charged? The Times asked: "£50 million? £100 million? £150 million? More?"
Certainly billionaire bidders from various continents will line up for a luxury pad at an address within walking distance of 10 Downing Street, the British prime minister's globally recognised office-cum-residence, not to mention being earshot of the gongs of Big Ben!
The OWO is spread over 580,000 sq. ft and rises to seven floors.
The Grade II listed building – with three kilometres of corridors – was acquired five years ago.
It was once the location of the Palace of Whitehall, home to the colourful, much-married King Henry VIII.
Indeed, The OWO was the nerve centre of Sir Winston Churchill's defiance against the German Nazi dictator Adolf Hitler's expansionist designs, relentless bombing of the British capital by the Luftwaffe, and threatened invasion of the UK in the Second World War.
It was also the headquarters of Britain's armed forces when 46-year-old John Profumo was secretary of state for war, before he was felled by an affair with a 19-year-old dancer Christine Keeler in 1963 – a scandal that shook Britain.
Ian Fleming, when working in the Royal Navy's intelligence service within its grandiose portals, was inspired to embark on his 007 series, although this related to MI6 – India's Research & Analysis Wing's British counterpart.
Both James Bond films and more recently The Crown (Netflix drama series) were filmed here.
The majestic Edwardian exterior has internally dissolved into a modern configuration with bespoke handcrafted kitchens, brass ironmongery, and marble.
Heritage features like oak panelling and mosaic floors are, though, being retained.
Historic England and Museum of London Archaeology provided their expertise in the meticulous redevelopment.
Earlier, the Hinduja family had purchased four terraced mansions – with a view of British monarch Queen Elizabeth's Buckingham Palace – in a run-down condition and restored these to their original pristine state, much to the satisfaction of Prince Charles, heir to the throne and a keen conservationist.
It's the four Hinduja brothers and their families' home.
The multi-billion Farsi-speaking Hindujas have come a long way from distributing blockbusters like Raj Kapoor's Sangam in Iran, where they were based, to spreading their wings in 38 countries.
Their ownership incorporates Indian truck-maker Ashok Leyland and international lubricant producer Gulf Oil.
Raffles, established in 1887, had pitched its tent in Europe in Paris and Warsaw.
Now it's crossed the English Channel and will mark its presence in London with a 125-room luxury property.
It remains to be seen if it will persevere with its tradition by pampering guests with private butlers.
Source: Read Full Article