'Tip of the iceberg': Crown inquiry gets very dangerous, very quickly
Crown Resorts must have abandoned any hopes that Victoria's royal commission into its sprawling Melbourne casino will be relatively painless.
Perhaps it looked like things couldn't get much worse after last year's Bergin inquiry prompted NSW to suspend the licence for its new Sydney casino and triggered a mass exodus of senior executives and directors.
Victoria's royal commission into the James Packer-backed casino giant heard on Monday that suspected money laundering had been identified in 14 new bank accounts that were not examined in last year's damning Bergin inquiry.Credit:Scott McNaughton
Executive chairman Helen Coonan has launched a sweeping "reform agenda" to rebuild the James Packer-backed gambling giant's corporate governance, culture and compliance structures.
Having been galvanised by the scorching heat of Commissioner Patricia Bergin's 18-month inquiry, surely the new and improved Crown would easily slip through Ray Finkelstein's speedy Victorian probe?
Counsel assisting Meg O'Sullivan answered that definitively on Monday, when she revealed that some of the most damning evidence that prompted Ms Bergin to find Crown unfit to hold a licence in NSW could be just "the tip of the iceberg".
Ms Bergin spent weeks looking at how Crown enabled money laundering in two Crown bank accounts which patrons used to deposit money (often large bundles of cash, just below the $10,000 limit that would have notified authorities) to gamble at its Melbourne and Perth casinos (or, potentially, have Crown transfer back to their own bank account, ostensibly as "clean" winnings from a lucky night at blackjack).
We learnt on Monday that Crown ordered a review of all its patron bank accounts in February this year – a hasty seven years after its banks first warned they were being used for money laundering, and almost two years since this masthead reported it was happening.
So far Deloitte (an earlier review started by Grant Thornton was spiked) has discovered suspected money laundering in 14 more bank accounts that Bergin did not examine, with some transactions happening as recently as three months ago.
Grant Thornton's review found at least $5 million of suspicious transactions in the Southbank and Riverbank accounts. So how much could drug syndicates and sex traffickers possibly have washed through these other 14 accounts?
We may never know. And because Crown left it so late to start looking, the no-nonsense former Judge Finkelstein won't find out before August 1, when he has to report back on whether Crown should keep its Melbourne casino licence.
"Had Crown started that review any earlier than February this year, the results would be known to this commission," Ms O'Sullivan informed him at the start of the second week of public hearings.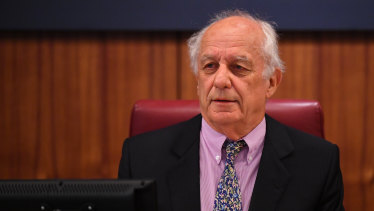 Commissioner Ray Finkelstein may have to finalise his report without knowing the full extent of money laundering at Crown. Credit:AAP
This raises a number of questions. Can Mr Finkelstein rule on Crown's suitability to run a casino when neither he nor Crown know the true extent of its biggest probity issue?
And how will the NSW Independent Liquor & Gaming Authority (ILGA) respond if it is shown that Bergin (whose terms of reference were limited to examining specific allegations reported by this masthead) may have only scratched the surface?
ILGA chairman Philip Crawford said two weeks ago he expected to reinstate Crown's Barangaroo licence by October this year. Can he be sure Crown has cleaned up its act when the size of its mess is still being uncovered?
Even worse, Ms O'Sullivan said on Monday that independent experts have found some of Crown's "knee-jerk" efforts to win back its Sydney licence – specifically the "reforms" to its anti-money laundering program – to be deficient. This, she said, raised serious concerns about whether Crown was capable of fixing itself.
At least NSW can keep Crown's new Barangaroo casino shut for as long as it takes to be satisfied that criminals will be kept out. The fact Crown's sprawling Southbank casino is open and vulnerable to exploitation is made crystal clear by the royal commission's witness list this week.
On Thursday it will hear from Alex Carmichael from the Promontory Financial Group, an anti-money laundering expert who has worked closely with Crown. But his evidence will be closed to the public and the media can't report it. Why?
Because, as Ms O'Sullivan explained, he will dive deeply into Crown's "present vulnerabilities". There was a "real risk" he would reveal to more of Melbourne's underworld exactly how they can turn Crown Melbourne into their own personal piggy bank, too.
Business Briefing
Start the day with major stories, exclusive coverage and expert opinion from our leading business journalists delivered to your inbox. Sign up here.
Most Viewed in Business
From our partners
Source: Read Full Article