Obama defends Rev. Wright as 'supremely gifted preacher,' hits Loeffler's 'crazy' attacks on Warnock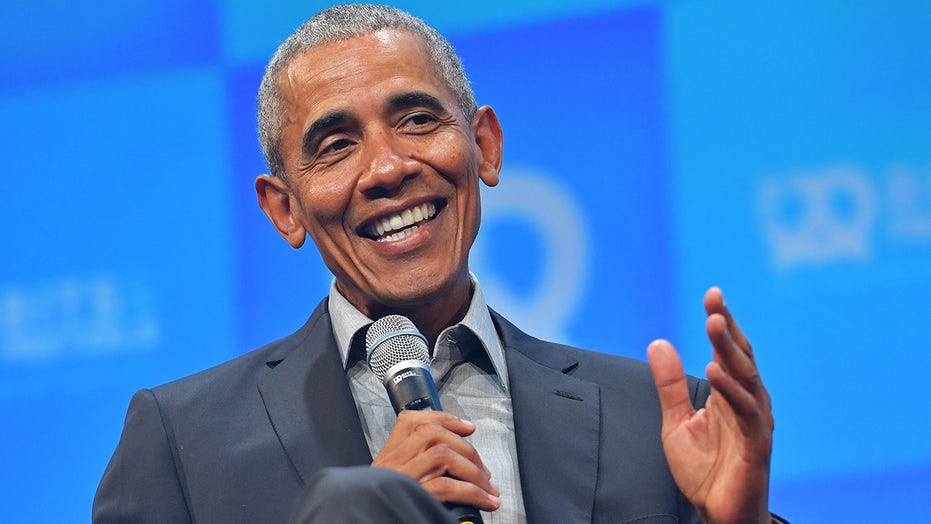 Fox News Flash top headlines for November 25
Fox News Flash top headlines are here. Check out what's clicking on Foxnews.com.
Former President Barack Obama in an appearance on "The Breakfast Club" radio show on Wednesday said that attacks by Georgia Sen. Kelly Loeffler against her runoff opponent Raphael Warnock over his connection with Rev. Jeremiah Wright are "crazy stuff" as he defended Wright as a "supremely gifted preacher."
Obama appeared on the popular radio show and podcast to promote his book "A Promised Land," which details much of his presidency, including his 2008 presidential campaign during which his connection to Wright became an issue. Wright has a history of controversial comments, including a sermon in which he said "God damn America" when referencing racial injustice. 
Further, after 9/11 he said that "America's chickens are coming home to roost" and after Obama's inauguration blamed "them Jews" for his inability to talk to the president, according to NBC, before adding, "[h]e's a politician; I'm a pastor. He's got to do what politicians do."
Obama heaped praise on Wright on Wednesday when asked about his relationship with the pastor by "The Breakfast Club" hosts, who have a reputation for being unafraid to get into hot-button cultural issues – earlier this year they pushed President-elect Joe Biden on race issues during an interview.
"I wanted to ask you something about Rev. Jeremiah Wright from in your book because you've addressed it and Michelle Obama has addressed it. Do you think that in today's climate the comments and the speeches that Jeremiah Wright gave would have been looked at in the same way where you would have had to distance yourself from him?" co-host Angela Yee asked. 
"It's an interesting thing … Rev. Wright is an example of somebody who – supremely gifted preacher, Trinity United Church of Christ obviously outside Chicago had an amazing ministry, still does. And I was very close to a lot of people in that congregation as well as Rev. Wright," Obama said. 
He added that he believes a lot of Wright's more controversial comments have been taken out of context. 
"In national politics, if you can take out a bunch of sound bites that say 'God damn America,' even if the context of it is prophetic and biblical and he's trying to describe you know how somebody might feel – he wasn't promoting the notion that God was damning America," Obama said. "He was making a point that if you looked at slavery and discrimination you could see the conclusion of people feeling that there was not an alignment with Christian values and America. But if you see a two-minute sound bite, trying to explain that is too complicated."
Obama went on to explain that the experience of Black people is not the same as the experience of much of the country, which made it important for him to manage how he was communicating with voters and legislators. As an example, the former president mentioned his comment after a controversial arrest that police "acted stupidly," as something that would not be nearly as contentious in 2020 as it was at the time.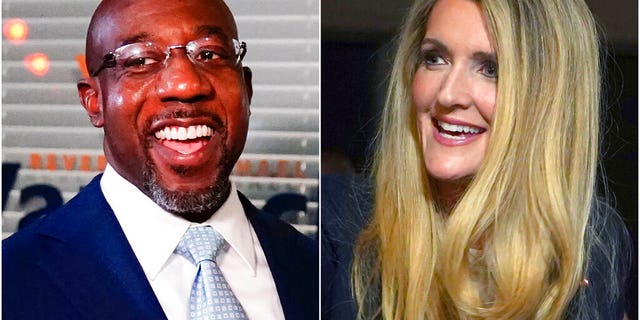 This combination of photos shows Raphael Warnock, left, a Democratic candidate for the U.S. Senate. and Republican U.S. Senate candidate Sen. Kelly Loeffler on Nov. 3, 2020, in Atlanta. The two are in a runoff election for the Senate seat. (AP Photos)
Later in the interview, the Georgia Senate races came up, with Obama advocating for Georgians to vote for the Democratic candidates in the Jan. 5 runoffs, which will decide which party controls the Senate. 
"Since you're talking about Georgia with Warnock, I see they're giving him issues about his alliance with Jeremiah Wright," Yee said. Warnock, during the 2008 election, was one of the chief defenders of Obama and his relationship with Wright. 
In a 2008 appearance on Fox News, Warnock was asked about that speech and other remarks.
"We celebrate Rev. Wright in the same way that we celebrate the truth-telling tradition of the Black church, which when preachers tell the truth, very often it makes people uncomfortable," he said.
"It's the same kind of stuff," Obama replied to Yee. 
Yee then asked Obama whether he suggests that Warnock "step back and denounce him at this point."
"It is a losing game at this stage to just go chasing crazy commentary," Obama said, likely referencing the attacks Loeffler, R-Ga., has launched against Warnock. 
Obama continued: "There's some things you have to answer aggressively, but you can't obsess over it. Rev. Warnock is doing a great job. If I'm him, I'm going to be emphasizing, 'What am I positively going to do on behalf of the people of Georgia' as opposed to just trying to play defense against a bunch of crazy stuff that's coming out there."
Loeffler has attacked Warnock online about his connection to Wright repeatedly, as recently as Monday. 
"What's crazy is Jeremiah Wright saying that America got what it deserved on 9/11, that America created the HIV virus to attack its citizens, and that God should damn America," Loeffler campaign spokesman Stephen Lawson said of Obama's remarks. "But what's even crazier? Raphael Warnock celebrating the same man and standing by those comments."
Warnock has previously addressed his defense of Wright. 
"I know Rev. Wright," Warnock said on MSNBC's "Morning Joe" earlier this month. "I'm not an anti-Semite. I've never defended anti-Semitic comments from anyone and Kelly Loeffler knows better," he added, before accusing her of "division and distraction."
Warnock campaign spokesman Terrence Clark previously told Fox News that the candidate "deplores and disagrees with any kind of remark that is anti-Semitic or discriminates against anyone."
He added that the candidate "doesn't agree with all of the positions other pastors support, and has said such throughout this campaign."
"Rev. Warnock loves this country, and he supports honoring the dignity of all people, but also finding common ground to reform our broken systems," he said. "Once again, our opponents are playing the same Washington games to try to divide and distract people instead of standing up for health care in the middle of a pandemic."
The Georgia Senate races – there is a second runoff scheduled for Jan. 5 between Sen. David Perdue, R-Ga., and Democrat challenger Jon Ossoff – are set to be the center of the political world's attention for the next month and a half. 
Whether Republicans manage to hold onto their majority or Democrats gain control of the Senate, which they would need to sweep both Georgia races to do, will play a major role in how much say the GOP has in legislation and nominations for the first two years of the Biden administration. 
Fox News' Adam Shaw contributed to this report. 
Source: Read Full Article